Welcome to the Shaler Garden Club
Celebrating our 100th Anniversary 1921-2021
1st Place Winner of Garden Club Federation of PA 2022 Website and Facebook Award!!
We invite you to be our guest at any of our events, including our membership meetings, before you decide to join. Note that residency in Shaler is not required. Whether you're an experienced gardener or a novice seeking to learn, the Shaler Garden Club is a warm place where you can grow. Gardening together builds friendships, is good therapy and benefits our community. It's been proven...over our 100-year history!
Please visit our "Events" page and our Photo Gallery to learn more about us.
Our "Membership" page contains information about our history, club organization and our affiliations with The Garden Club Federation of Pennsylvania and the National Garden Clubs, Inc.
You may also print a Membership Application by clicking on the download on the "Membership Page" or Contact Us at info@shalergardenclub.com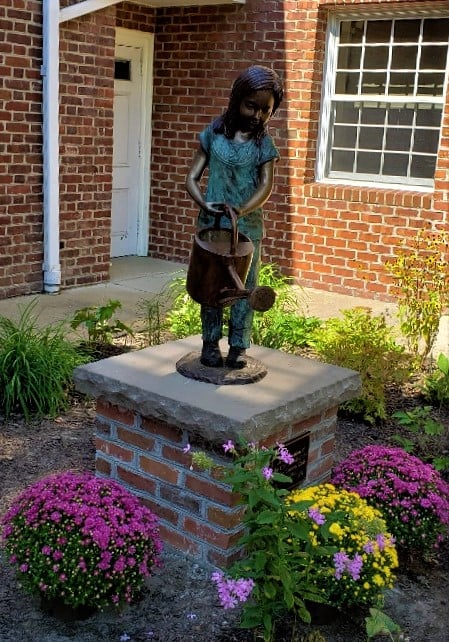 Centennial Commemorative Statute at the Shaler North Hills Library
We hold 10 membership meetings from February to December, featuring knowledgeable speakers on a multitude of gardening topics. Our meetings are currently held at Glenshaw Presbyterian Church, on the fourth Tuesday of each month at 12:00 noon, unless otherwise specified. (Please see "Events" page for a detailed listing.)
* Field Trips to unique gardens are offered to inspire members to new gardening heights!
* Annual Plant Sale is held on the first Saturday in May from 9 am till noon at Kiwanis Park. Members divide and share their perennials, host a bake sale, provide children's activities and a flea market. This sale helps stimulate gardeners to try new plantings and serves as a major fundraiser to support our charities and club projects.
* Shaler Gardens Tour is our fundraiser which benefits the Shaler North Hills Library. Community members get the chance to tour five spectacular area gardens.
* Great Gardens Contest allows area gardeners to submit their home gardens to win awards and to be recognized for their hard work. The first-place winner is asked to participate in the Great Garden Tour.
*We maintain the gardens at Shaler North Hills Library throughout the growing season.
* Earth Day Project distributes seed packets and information to all kindergarten students in Shaler School District, to inspire them to learn more about planting flowers that are good pollinators for the bees and insects.
* Fairy Garden Workshop, held at Shaler Library for 4–8-year-olds, inspires children with the magic of gardening, as they build houses for fairies out of natural materials.
*Succulent Garden Workshop is held annually in March and open to the public. This educational hands-on event is sponsored by the Shaler Garden Club as a fundraiser for the Shaler North Hills Library.
* Horticultural Therapy Program: Shaler Garden Club members work individually with residents of Hampton Fields Retirement Village to create wreaths or floral arrangements for their apartments.
* Decorate four indoor Christmas trees at the Shaler North Hills Library. One is decorated with handmade ornaments made from natural dried plant materials, one with Santas, one with traditional ornaments and one with gingerbread cookies made by members.